Upgrade iPhone storage memory available in Malaysia!
Yes! The only Kedai upgrade storage iPhone is available in Malaysia – Selangor – Seri Kembangan – South City Plaza.
Upgrade memory can be done on the same day!
We are doing service upgrade iPhone memory storage every day since 2016.
Years ago, we were doing this only for the dealers, and suppliers of iPhone recond/used in Malaysia.
But now we are open to the public.
End-user like you can visit our store for the memory upgrade without leaving the iPhone overnight.

We do upgrade iPad Storage too. Check this link.
16 GB or 32 GB iPhone is a torturing device.
Do you know a smartphone is sticking with us for almost 24 hours? It's our All-in-ONE device: entertain, social, our memory photos, note, and many more.
Why do you still bear the pain when you can upgrade the storage without buying a new one?
Have question about the upgrade? Worry problem? Click here to read upgrade memory FAQs.
iPhone 6S 
iPhone 6S Plus 
iPhone 7 
iPhone 7 Plus 
iPhone 8
iPhone 8 Plus
iPhone X
iPhone XR
iPhone XS
iPhone XS Max
iPhone SE 
iPhone 6
iPhone 6 Plus
(This 3 models maximum is 128 GB)
(This 3 models get discount RM 30)
Price List of Upgrade Storage iPhone above (Malaysia)
*Price included labor*
*Price might not same in the different country*
iPhone 11
iPhone 11 Pro
iPhone 11 Pro Max
iPhone 12
iPhone 12 Mini
iPhone 12 Pro
iPhone 12 Pro Max
*iPhone 13 series not supported yet*
iPhone 11 and 12 Series Upgrade Price List
Please read the FAQ before the inquiry.
Excellent.. They upgrade this phone from 16gb to 128gb just in 2 hours with reasonable price and also extended warranty until 2 month....thanks to mr Lim - Iphone Service.. 5star for you
Ip7plus, from 32gb to 512gb. Speedy service. Attended by Alvin at the counter. The process finish in less than 3 hours. Thank you!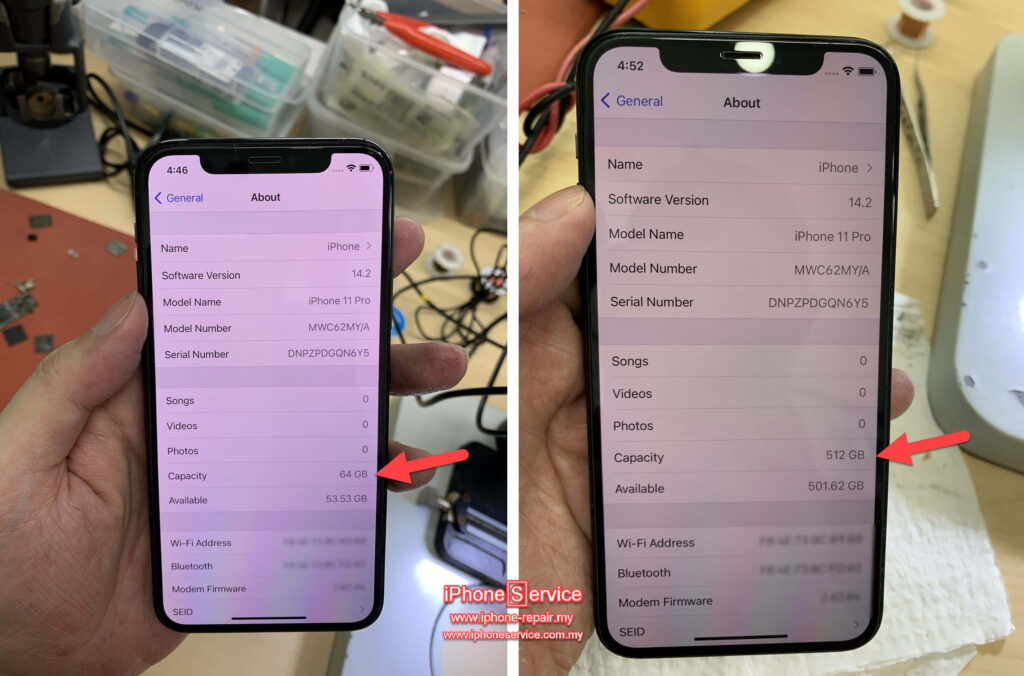 Not in Malaysia? Want upgrade storage?
We trained a lot of foreign students in our academy. 
USA, Dubai, Germany, France… 
We only listed the one is certified, well trained, and a fixed location retail.