iPhone Logic Board Repair Training in Malaysia (Offline)
We are NOT the normal micro-soldering school that you expected. Here are some of our courses' details. Read this all and you might have an idea we only train the student to become an ELITE iPhone technician. We don't just train soldiers. We are training commandos. 
You should know we also have a Youtube channel – iPhone Service Malaysia. 
Before you read a list of what we're going to teach, I'll have to tell you that a list of the course is useless if you never know how deep the professional level can be.
This is why I strongly recommend you to take a FREE trial one-day class from us and then you will know what are we capable of.
After that, I'm sure you won't be experienced the way we trained you from the other school. 
We don't call ourselves Advanced iPhone Board Repair for nothing special. 
Click here for the training cost.
Compared to other schools, they only provided Theory and Skills. But I found out they are really lacking many diagnosis methods.
In our training center, we have three enhancement training – Diagnosis class, Theory class, and Skill class.
Diagnosis Class - They are lacking this...
Do you know no matter how excellent the soldering skills you have, but you might still unable to solve some uncommon problems easily.
I see many technicians they can rebuild the iPhone CPU, doing a transplant/swap CPU, but they still can't fix many uncommon problems that were just a minor part fault.
They wasted a lot of time doing a transplant (Swapping the CPU and NAND into the new board) because they can't find the real problem.
A small component causing the entire iPhone to malfunction and they didn't know.
I found out their problem is missing diagnosis techniques and SOP.
Diagnosis and SOP (Standard Operating Procedures)
Many students that graduated from other schools and they still asking the stupid question such as below.
This is one of the top common noob questions that is everywhere. This is a big problem if the question is coming from students that are trained.
They asked this question is because they don't have an SOP of how to check the circuit step by step.
Same as above, they lacked an SOP of how to step by step troubleshooting.
Many schools don't bother to teach you SOP.
They thought by teaching you how to read diagrams and you will be okay. So they don't come up with an SOP for each specific problem.
Here, every day we are repairing the iPhone logic board. Sometimes there will be a special problem that needs to be diagnosis by professional methods.
In this kind of case, I would love to do it in front of students to let them learn.

Want to know more? Check out this video.
You will be blindly changing the IC without an SOP
I created many rules for different kinds of problems. I called it SOP. We have a step by step list to check the problem. Where to begin, what kind of diagnosis tool need to use, what caused it, and more.
Never blindly replace any IC or removing components without the evidence to verifying it's dead.
Many ways to verify the IC is the problem before we remove it. 
Skipping this SOP might create more problems than it had. 
It means you can only skipping my SOP when you very well know that kind of symptom and source of the problem. 
Diagnosis on real cases - Gain experience every day
Yes, because we have the motherboard to repair every day.
I love to exam how is my student's level by letting them check where is the problem and how is their procedures. 
Every one brain is not the same, I need to know their bad habits and telling them what they missed.
Let say if we already taught you the "Display circuit", then when we have an iPhone with a similar problem, we'll test your diagnosis skills.
Students will be improving very fast by knowing their error of diagnosis and absorbing our ways of troubleshooting.
Don't just apply the solution without knowing how we found out and why it happened.
Two Diagnosis Class Learning
We teach the diagnosis in two ways. 
Diagnosis - Traditional methods
Traditional way is means I assumed you don't have the high-tech diagnosis tools such as Thermal Camera, Logic Analyzers, oscillator scope. 
So there would be a lot of diagnosis techniques without using that kind of tool. Most famous schools in China is the traditional method.
Slow diagnosis, but this is the cheapest to begin the repair business.
Diagnosis tools are usually with a Standard Power Supply, Rosin, Freezer, information about iTunes error codes and panic files that came from ZXW, WuXinJi, or school made papers.
Diagnosis - Advanced methods
Advanced methods are mean a more modern way.
Example:
A thermal camera to locate where is the short. 
Or to see how the CPU is unable to boot up by our recommended custom thermal camera. Many diagnosis methods can be done by using a thermal camera.
The advanced diagnosis skills will save you a lot of time. But this is also the most expensive investment.
Logic Analyzer –  You will be needing this if you're going to be a data recovery specialist.
Apple Engineer Diagnosis  – We can use the Apple command code to diagnosis the motherboard issue. Such as i2c, RAM test, NAND test, all voltage output. (I'll post a video here soon)
Thermal Camera – This is the best tool that invested. We have tons of videos about special problem detected by thermal camera. It can even detect the CPU problem. 
Oscillator Scope – Opss, sorry… I don't find this useful when I have the tools above. Logic Analyzer can already do what oscillator scope that can do in the smartphones PCB. If you want learn to this tool, not here.
Diagnosis tools are Special Power Supply, Thermal camera, DSCD Cable with diagnosis programs, error codes and panic files with non-stop online update, and more access to special diagrams.
Not only we teach you how to read the diagram, and how to draw it.
That is NOT enough.
We are not like those schools that never let you know "How they get this special knowledge and where their sources from?"
Especially the third-party draw diagrams. It's because Apple never releases the Touch ID and Face ID schematic. There are a few famous schools that are selling the diagrams online, but the question is how they get it?
So I'll teach you how to buy and where to get this kind of resource. How to search is also important.
Theories about how circuit works
By understanding how the circuits work, you can create a custom solution for some specific problem.
You can repair the problem that a normal technician couldn't. I have a real case uploaded to YouTube, watch it and you will understand what level you can be after you trained.
Video link is here – iPhone 6S NAND Reset line short Error 4014
I don't like to list this out because some academies copy my list and saying they have too. 
So I'll purposely hide some theory topics here. 
Below is the list that I can share to public.
Get to know logic board's components (iPhone and iPad)
Schematic diagram reading and drawing
Heat sensitive components in Apple (What kind of temp or why it short)
Tools explanation – Multi-meter, DCPS and more.
Power-up Logic Board requirement and condition.
Boot-up requirement and sequence. 
Buttons circuit
Charging circuit and USB 
How to analyze the iTunes error code like a pro 
NAND / Hard disk Class – How many NAND type and compatible, Upgrade storage, NAND programming, problems related to NAND.
Display circuit
Touch circuit and 3D touch
Device reboot itself randomly analysis (Panic file report analysis + noob charts)
WiFi and Bluetooth circuit
Audio Codec and Speaker circuit
Vibrator/Taptic circuit
Touch ID and Face ID circuit
Proximity sensor circuit
Camera and flashlight circuit
GPS, Compass,  Accelerator, Air pressure, GYRO circuit
Baseband circuit
Cellular Network circuit
How to unlock ID of the iPhone and iPad
By the way, If you're a Malaysian Chinese, the Theories Class we can teach in two languages – English and Chinese. By knowing these two languages is very beneficial. Useful when we are searching on the internet or discussing with the foreigner.
Sometimes the Western come up with new things before China knows it. Or China has a new solution or tools for certain repairs before Western know it.
This is why I'm easily one-step-ahead. 
This is also one of the reasons why I'm so special by combining Western and China knowledge.
Don't think the skills you learned are only able to apply on the iPhone or iPad. It's actually can use in any other smartphone or PCB repair.
Once you master the micro-soldering and heat-control, you can even fix the other stuff. 
Occasionally I do fixing modem routers, laptops, car ECU, and more. But those are just helping my friends and cousins.
Below is the list of practical skills you'll be learning, but actually, it'll be more than the list in the real training. The list is just a surface of the practice. That's why I said you can come for a Free Trial Training and then you'll know how deep our training will be.
Micro-soldering and BGA works
Jumpers
Repair all kind of broken pads
FPC Connector Repair
Repair broken flex
Layer installation (iPhone X, XS, 11 series)
Face ID repairing
CPU A8
CPU A9
CPU A10
CPU A11 and A12
How to remove NAND without affecting layer and preserve the NAND (iPhone X, XS, XS Max, 11, 11 Pro, 11 Pro Max)
How to remove NAND without affecting CPU and preserve the NAND (iPhone 5S, iPhone 5)
How to remove RAM without affecting CPU and preserve the RAM (iPhone 6, 6 Plus, 6S, 6S Plus)
How to remove Power IC in every models without affecting anything and preserve the Power IC
Multiple ways to safe cleaning the underfilled black glue on the IC and board
iPads NAND removal
After you have done our skills training, I'm sure you don't even need to put a coin, shield, or thermal tape to repair the logic board anymore.
Here is one of my example video – iPhone 6S Power IC replacement
If you think you can buy a lot of logic board to practice and you will be the same skill as us then you're very wrong.
Especially when no one tells you the tools, methods, angle, size of the nozzle, air flow, environment, IC heat limitation, a lot more hidden knowledge in the iPhone. 
I'm a guy who likes to buy new tools and review them. Our equipment is one of the best that you won't see available in the others.
Even the microscope is different in quality. Come for a Free Trial Course and you will know.
You will never know the differences between the normal microscope and branded microscope from Leica, Olympus, and Nikon until you test it.
The microscope we are using is custom internal built with branded materials.
You're welcome to check it out.
Without a good quality microscope, you will really miss a lot of details that are critical for a certain diagnosis.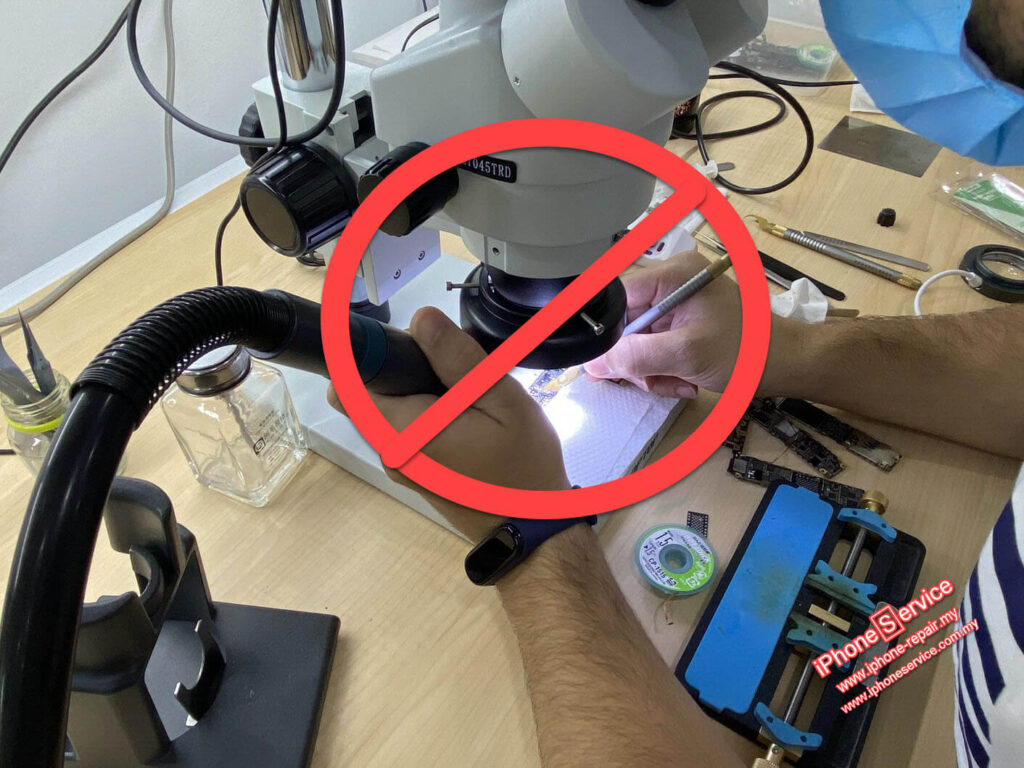 I despise those schools that just take the money and put the students aside to practice themselves. No one to see their mistakes for many hours or days.
This is why I need every student to have a good microscope with a high-quality camera to let us see their problem instantly.
I want you to save your time of the training by correcting you ASAP. You need the teacher to see your mistake, right?
You guys are so fortunate by not learning the way I was many years ago.
For a technique that just needs 5 minutes to master, they wasted me a few days because they can't see what's wrong in the process or don't even bother. I have to figure it out myself.
I grew up in a hard way, so I know how the training can be improved. I'm NOT going to do the same as them! 
What is the point if the trainer can't see your fault?
I even put the IPS monitors for every microscope so then we can see from any angle.
I can see what you are doing far away from my desk. 
If you wonder what IPS monitor is, I suggest you to google it.
Training Cost and Duration?
For local Malaysian  (We just started to accept the local students in 2020 because Malaysia is locked down)
For foreigner from oversea 
If you wonder why the foreigner is slightly expensive is because the training time is intense. Normally, they stay for 3-6 weeks because of the VISA staying duration, so we need to compress our schedule to train them. We sacrifice the holidays or Sundays to train them if they can keep up. 
Local students won't have this problem because they can extend the training for a few months if they are busy working. Maybe they just attend twos day a week. That's why our schedule for local students is much more flexible. 
Duration and how long to complete training?
A normal zero micro soldering skills student will need about one month to two months between. Depends on how is your talent. 

Experience student that already knows how to do some BGA ic, they will need about 2-3 weeks.

Our training schedule is 6 days a week. Friday is off. From 11 AM to 6 PM. Most of the time we stay later than 6 PM.
2:00 PM is lunch hour.
Feel free to go or break anytime. 
Not included! But Malaysia is sure one of the cheapest countries for decent meals. 2USD can even get you a full meal. 
Continue to read this link for accommodation. 
Cost is included training materials
Training materials such as many good motherboards that can be power on. Because it's no point to test your skills if you just doing the dead board. 
Our goal is to make sure you have the correct method to repair it safely without any side effects on the motherboard. 
Many tools will be provided. Once you're here, you will know all our tools are better. Even a flux or solder paste have differences. Custom-made CPU blade, reball tools, PSU cables, and more.
WTF question is it? You already paid money to me, which mean you're my family. 
I'm not that kind of people who just wants your money and goodbye.
As long as I'm still working in this field, you can have our support lifetime.
If you passed all my exams, you're even qualified to be one of my certified branches. 
How long to complete the training?
A normal zero micro soldering skills student will need about one month.
Experience student that already know how to do some BGA ic, they will need about two weeks. 
If you're unable to absorb all the training in one shot, you can come back here anytime to continue. So basically I didn't limit the time.
Interesting for the Free Trial? Talk to me first.
As I said earlier, it's impossible to list down everything on the web site. There is too much information that you don't even know is exist. As I said, you never know how deep the rabbit hole is until you found someone who is really in this field.
This is why I'm offering a free training trial without need you to pay anything first. Get to know our "rabbit hole."
That's why you must need to meet me first, so I can know your current level and let you know what you will get from me that is not listed here.
I'm sure you will learn a lot already before you even join my class.
If you expect I will be hard selling and bragging how good we are, then you are wrong.
If you expect a lot of smiley faces in the message and saying yes yes, we have everything, sir.
Sorry, I won't. To be honest, I'm not that desperate to earn money in that way.
Meeting up is to see each other compatible. Get to know each other deeper. See the real face expression instead of emoji.
I rejected a few students because they have a learning attitude problem.
Once the meeting is okay, I can set up a customized free trial course according to your knowledge and skill level. Free Trial Training is one day or two days.
I do really hope the other schools can also let you have the trials so you can know the difference. 
By taking a free training so you will know how fast the learning and how strong you can become.
After the trial and I'm sure it can change your vision. Your vision will be unlocked to see how deep is our field then you can know what you going to be. 
We are definitely NOT what you imagine. Come to visit our workshop talk to me and you will find out.
Take a trial, and it's okay if you're not choosing us in the end. No money loss too.
This is a small capacity training room to create a high-quality technician. I train the student to become an elite technician that is independent. From zero to hero.
This setup can easily let us focus on their progress.
Customize their learning progress. Faster let them able to make money with the newly learned skills.
Each person has a desk that is at least 4 feet.
Space is essential to make the student stress free.