We are still repairing iPhone during the MCO period (Movement Control Order) in Malaysia.
Because we are still accepting mail-in repair or from third-party delivery company such as Lalamove, Grab, Bungkusit, Mr.Speedy.
Contact our WhatsApp if you need urgent repair during this time.
Procedures for mailing within Malaysia (Domestic)
You must need to contact us by WhatsApp before you send out. We need a chat history for follow-up.
Must pack it safely to prevent any damage from courier company.
This page for the address and procedures.
But how much to repair for iPhone motherboard problem?
Sorry, we don't know exactly how much until we check the motherboard condition. However, you can get the rough estimate quote from min to max by telling me your model of iPhone and what happened.
Keep the tracker number for mail-in repair
Remember, you must need to forward the tracker number to us because we have too many parcels in a week. We need to know which one is yours.
Third Party Delivery – Grab / Lalamove /Bungkusit / Mr.Speedy
I prefer to use Grab. They are fastest to pick up from your place in this MCO time.
But before you use it, please make sure you contact us first so we can expecting it.
Some police block might ask them to open the parcel, so it's normal if parcel is opened. This is also why I don't bother to seal the parcel.
But make sure we log in an Apple ID and set a password into the phone first. I don't want them to have any bad idea.
We will quote you a price before repair
We will tell you how long it needs to be done and how much.
Once you agree with the cost of the repair, then we will proceed.
If you're not okay, then you just need to pay the return postage fee to us which usually between Rm10 to RM15.
Do I need to give the password to you?
Yes, if you want us to check all the function after repair. We don't want it still has a small issue or other problem, especially those iPhone that was unable to power on.
But if you have a big privacy issue, we can repair it until the device can be turned on and then return it to you.
If let say the iPhone you send to repair, but it's still can turn on. You can back up into your PC and erase all before you send it.
What about the payment ?
Yes, it must be made into our company bank account before we ship it back.
An official receipt will be provided. Be sure you forward the banking receipt to us after payment is made.
Account Name: iPhone Service
Bank: Maybank
Account Number: 512987008642
We received multiple transactions in a day, so the time-stamp on the receipt will be your evidence of payment.
We will forward the the tracker to you after we sent
Mail-in from other countries (International)
I assumed you want to send here to repair the logic board and data recovery. If screen repair or small stuff, anyone with screwdrivers can do in your country, so you won't need our service other than repair logic board.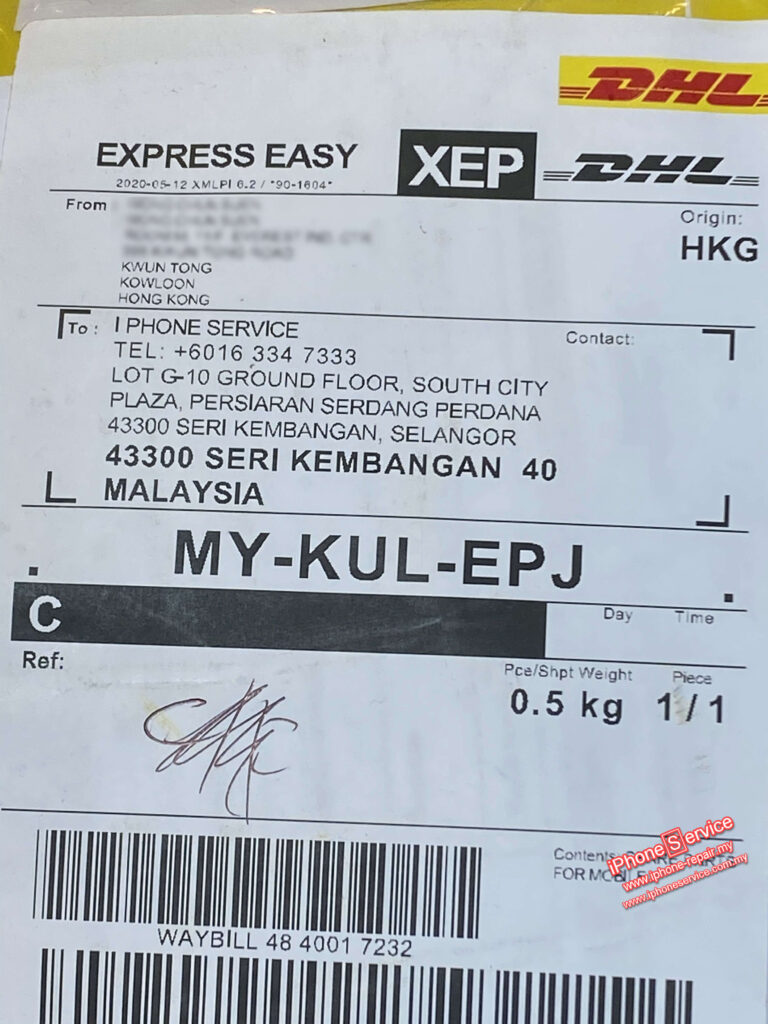 We do accept mail-in repair from other countries, but you must read this all first to avoid the Custom problem such as Tax, parcel holding or rejected.
Remove the battery
Our country's couriers are NOT allowed us to send a device with the battery. So don't send us the device with the battery. You need to take it out before you send it to us.
Once you got back the repaired device, you can just reassemble back the battery.
Removing a battery is not a simple job. Amateurs are very easy to damage it further.
So it's best you find a trusted technician to remove the iPhone battery for you. Carefully keep the battery yourself.
Tips: If you don't have any trusted technician, then I suggest you look for the one who can do repairing face to face. This can avoid those monkey swapping your parts out of your dead iPhone.
Never leave it out of your sight.
Remove the LCD screen
Yes, in order to avoid Malaysia Custom tax. You have to remove the LCD / OLED screen before you send it, so it won't be considered a full device.
If you don't do this, the custom or courier might charge us before the parcel release from custom. We will need you to pay for it.
Tips: If somehow you need to ship the screen for us to check, I suggest you pack it separately. Two boxes within one parcel. Make it like a dismantled device to avoid the CUSTOM hassle.
If you have a good trusted technician…
You can tell them to just remove the logic board for you. By just sending the logic board without the housing is the best way to avoid all hassle above.
Pack it very safe!!!
Warp and pack it very safe to prevent them from throwing the parcel, or else they might cause more damage than it had.
Don't just simply put it into an envelope. Put it inside the box is safer. Especially iPhone X, XS, XS Max, 11 Pro series.
Payment Options- We accept PayPal
Other than TT to our local bank account, we accept Paypal too. Repair payment will be counted in USD.
Once we repaired it, we normally will send a video to you and request the payment. We will ship it out in working days once we received the payment.
Try to ship back using same courier or better
The owner bears the return courier fee. We can get a return fee quote from the courier company before you decide to send it to here.
You choose the one fastest in your country.
Contact us by using WhatsApp for fastest reply.
We don't always check the email. Any inquiry by email will be unlikely replying on the same day. So contact us by using WhatsApp.