What to do if iPhone stuck in Apple Logo loop?
Countless people are asking me about what to do when their iPhone stuck Apple Logo or boot-loop. Of course, they have already tried the hard reset which just basically does a force reboot, but the problem still the same.
So here is the article about the diagnosis and solution for iPhone repair beginner or End-Users.
Doesn't matter which generation of iPhone. This is for any model of the iPhone.
Continue to read this so you can save the money and also prevent data loss by sending it to the wrong people.
But before that, this is my first advice: DO NOT BUY any third-party program to fix it. They all are a scam.
They are very good at SEO and rank their web into the first google page. You will easily fall into their trap and their fake testimonials.

People that know how to Google isn't good enough, they need to know what kind of info is correct or fake.
So back to the topic…
There are only two reasons causing the iPhone stuck Apple logo looping. It would be either is a software or a hardware issue.

If it's a software problem, it might be the iOS is corrupted somehow, and it keeps rebooting itself.
Most of the software problems can be solved without losing the data.
But no matter it's a software or hardware problem, as a professional data recovery specialist. Our first step is always to try the software fixing method which is Force Update.
Force Update won't affect any of your data. Including Whatsapp or Wechat chat history in your iPhone.
It just reinstalls the iOS.
Why the iOS or software corrupted?
It might be the iPhone memory storage is not enough.
Most likely is the iPhone automatically attempts to update itself when you are charging it. But the system is crashed when the storage was insufficient or interrupted somehow.
Second case, the storage capacity is not enough and system crashed when running out of space.
Other reasons are more likely caused by unofficially apps or jailbreak.
Software Problem Solution (Force Update)
In order to solve a stuck Apple logo of a software problem, we are required to use a PC Windows or Mac with an internet connection. This is the only way to "reinstall the iOS" and keeping the data.
For PC Windows, make sure you have installed the iTunes from Apple web site.
(If you have totally no idea how to download the iTunes in PC, please don't bother to continue reading and then send it to someone who knows the computer. I don't want you to put your iPhone data at risk.)
Once you got the iTunes in your PC, we just need to put the iPhone into recovery mode and then let the iTunes reinstall the iOS to keep your data. This is what we called Force Update.
First step: Put the iPhone into recovery mode
Put the iPhone into recovery mode according to your iPhone model.
Enter Recovery Mode for iPhone 5, 5S , SE , 6, 6 Plus, 6S, 6S Plus
Enter Recovery Mode for iPhone 7, 7 Plus.
Enter Recovery Mode for iPhone 8, 8 Plus, X, XR, XS , XS Max.
Note: I know your iPhone is still on Apple loop and unable to enter the iOS. But just do the steps anyway, and it sure can enter the recovery mode. Of course, your iPhone needs to have some battery power.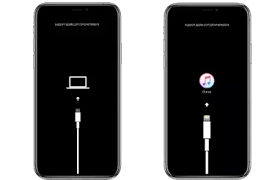 Now you should see the iPhone is displaying a recovery mode screen. Different iOS version will show a different cable logo for recovery mode, so don't worry that you're doing it wrong.
But it is wrong if you see nothing on your screen – repeat again. If you still can't do it, this means your iPhone is having a hardware problem causing you unable to enter the recovery mode.
It maybe is a button problem, or the charger port is not working. Check the USB cable or PC USB port too.
If you really have a button that is not working before, we can do it without repair the button. Check this video for that kind of tool.
Second step: Launch Force Update

Now the iTunes should be showing two buttons as above screenshot.
But I need you to say this three times before you continue.
DO NOT CLICK RESTORE!
DO NOT CLICK RESTORE!!
DO NOT CLICK RESTORE!!
A wise man once said the important things must say three times.
By clicking the restore button, everything will be wiped out. All the data will be gone and unable to recover permanently.
So far no way to recover. Why?
Because Apple is very good in security and privacy. Their iTunes program is very sure to clean it nicely. This is to prevent anyone recover the data and leaking the privacy of previous owner. You clicked the restore? It's GG. No other third-party program can save you. Those programs found in Google are scam. Do you really think they beat the multi billion Apple company and to sell you a program that just worth a few hundreds.
I once saw a forensic team recovered a suspect iPhone's data. But it's not for sale maybe due of Apple policy. By looking at the tools already know it's expensive than a luxury car. See for yourself.
So after you clicked the Update button as the picture above. It will just reinstall the iOS to the latest version and keep your data. Even if your iPhone is not enough space, the PC will solve the problem.

It might ask you to agree on something and start to download the new version. Just click okay or continue.
(Make sure your PC has at least few GB of space, else you will corrupt it for a second time when your PC run out of space in the middle of process)
Once the update process is started, you will end up with 1 of the 3 scenarios.
iPhone is restored, can still recover the data?
Scenario 1: Update is completed. Problem gone. No more stuck Apple logo.
Congratulation! It's just a software problem. Remember always backup your iPhone.
Do you know how much we charge the customer for this? Only RM50 for any software issue. Because we are transparent and do in-front-of-customers.
We saw a famous recovery specialist in Australia that charged 2000USD for this. They do it without letting anyone to see what they are doing or progress.
Apple Centers is about RM80. But they still charging the customer even it's not successful. What a jerk.
If you just Google and found this able to solved your problem, I don't mind you to drop a "thank you" message in WhatsApp below.
Scenario 2: Update process failed. Error Code appeared.
Uh oh. It doesn't matter what the error code is.
Because this is the worst scenario that happened on you. 
A very BIG problem about the data. Let's hopefully it's not corrupted.
There will be two scenarios for this too.

If it failed after the progress bar runs more than 10% and an error code shows up. Then it's most likely the data is corrupted. Or it might be a NAND problem (hard disk).
It can be repaired, but usually the data is lost. You can send it to us, and we have proper tools to check whether the data is there or not.
May 2020 – Recently, we are getting a lot of Error 14.
It's an iOS bug that corrupted your data while your iPhone was running out of space.
Until now, we don't have a solution to recover the data except to restore it.
The only hope is we wait for Apple to release a new iOS version to fix this. But in the meantime, the iPhone is stuck in the recovery mode. If you want to use it, then you have to give up the data by restoring it (Erase).
If it failed or stop before the progress bar even started, it's higher chance that your data not unaffected. It might be a CPU or motherboard is unable to detect the NAND (Hard disk).
Most this kind of cases can be repaired with the data intact and recovered. But also have those cases that cannot be recovered data because the NAND is dead. We can check it, don't worry.
I had a repair case that many other technicians failed to repair it. But once it reached in my hand, I recovered the data easily. Send to the right person is very important. Check this video for more info.
It doesn't matter you see Error 9, 35, 40, 4013 or 4014. We seen it all. It won't help if we don't have the access of your iPhone.
Not only we have a professional way to decode the error file, we must need to look on your motherboard condition too.

If you see someone tell you "Oh, error 9 is the NAND problem. Let's change it", clearly this guy only know how to apply the solution whatever they got from internet. Because it can be so many reasons that the NAND failed to work. They lost the chance to do a data recovery and start blindly changing parts. Maybe they even stay your iPhone for weeks and return to you with nothing fixed.
When Force Update is failed...
 The iPhone will be stuck in the recovery mode when you turn it on. It would be look like the photo below.
In this point we are pretty sure it's a hardware problem. Nothing you can do but send to a professional like us to check it.
Scenario 3: Update is completed but still stuck in Apple Logo
The update is finished without a problem. But the iPhone is still stuck into Apple logo and reboot loop.
This is definitely a hardware problem too.
But the Good news is — All the data is still remain. You can see them once we fixed the hardware that caused it.
There is a video on below you can see one of the example.
Why Hardware problem? Nothing happened recently...
There must be something that happened on your iPhone before. Such as water damaged, fell to the floor too hard, or someone accidentally damaged it when repairing it.
Ask yourself this. Is the iPhone gets water before? Because most of the time, the problem doesn't appear immediately. It only appears after weeks or months, because the corrosion is expanded into some critical chipset zone.
Apple replacement unit / Refurbished iPhone
I have a lot of cases like this, and they are mostly replacement set from Apple – aka Refurbished. Do you know Apple Center doesn't do the repair even you are willing to pay? They take your iPhone and exchange it with another same model for you. But what will happen to those devices that they took?
Yes. They send it back to refurbish as new. Change a new screen, battery, and everything except the motherboard. But what if the motherboard suffered heavy drop damage before and it's only temporary working? The problem only appears on later.
iPhone 7, 7 Plus, 8, 8 Plus
If you are iPhone 7/7 Plus, 8/8 Plus users, 95% is a motherboard problem, but it can be repaired without losing any data. Because those iPhones have a design problem. A heavy dropped on the floor can broke one of the Speaker IC on the top of the motherboard. When that part is unable to detect by CPU, it will stuck into a boot-loop issue.
iPhone X, XR, XS, XS Max, 11, 11 Pro, 11 Pro Max.
If you are iPhone X and newer models, there are high possibilities for your iPhone is water-damaged before, and the problem is only appearing now.

Please don't argue with me that the iPhone is water-resistant. Hundreds of times, I told customers the iPhone water resistance could not be trusted! I repaired more than a few hundreds of iPhones that were water damaged.
Want to know why? It's because the rubber seal inside the iPhone will be degraded after a few months of usage. Especially your iPhone gets hot sometimes. And also about moisture, it still can enter inside and grow corrosion too.
Below video is one of the cases stuck Apple loop – It's one of the Face ID components caused it.

iPhone XS stuck Apple logo water damaged repaired ( Face ID caused it)
This is a very common issue for iPhone X , XS , XS Max, XR, 11, 11 Pro series.
When you confirm have a hardware problem...
Really nothing you can do now, you can send it to us, and we'll run some check to quote you a price.
Don't ask me how much to repair because I won't know if I didn't run a full diagnosis on it. 
At least we need to open it up and see what's going on inside.

If you insist want an estimate for your budget, the range is very rough. 
Let say in March 2020, an iPhone X to repair this kind of issue is from RM200 to RM900.
Need help for hardware problem?  Check our workshop contact and address below the blue button.