In the year 2020, we have a new way to fix the Japan iPhone's camera shutter sound. This one is much faster, with no need for soldering skills, and it's a safe way comparing to the method that I discovered in 2018 – iPhone Shutter Sound Fix v1.
But this v2 method can only support a certain model of iPhone. It doesn't matter from Japan, Korea or others, they are all the same.
I made a video of How to fix Japan iPhone Camera Shutter Sound 2020.
iPhone 6 / 6 Plus
iPhone 6S / 6S Plus
iPhone 7 / 7 Plus
iphone 8 / 8 Plus
iPhone X
PC with Window and iTunes installed.
Internet Connection (For restore and activate)
iBox Mini 2020 / iRepair (NAND programming tool)
Lightning USB cable
Thanks to the iBox Mini 2020, we now don't need to remove the NAND from the logic board to reprogram. It's good news for those who don't have micro-soldering skills.
Now we can accomplish fix shutter sound fix without dismantling any hardware and it can be done in less than 1 hour.
What is NAND programming tool?
NAND programming tool lets us able to edit the hard disk data. The hard disk in iPhone is called Nand Flash, this is why we called it the NAND programming tool.
As my old article mentioned, the NAND itself have a fixed data about country and region.
In order to fix the shutter sound without any side-effect is to change the country code. This is why we need the tool to do it.
Everything is not affected. You can even update or erase the iPhone.
It also will be higher value if you selling your iPhone because Malaysia dealers offer the price according to the country code when trade-in the phone.


iBOX - A NAND tools without need to take out the NAND
Recently a guy invented a way to edit the iPhone NAND with just a DCSD cable. But that way can only support MAC OS. It doesn't support Windows PC because the USB drivers are completely different protocols in the iOS.

But not long after, another team created a USB box to trick the Windows it got a MAC USB port. They called it iBox.
China is a super copy-cat country. Once you found something that earns money good, friends are going to copy whatever you have.
This is why you can see the same tool but with different packing and names.
I just list down two that appeared recently. (June 2020)
It doesn't matter which one you bought, they are the same.
Don't ask me which one is better, they are really the same but using the same software with a different name. They both compatible with each other programs too.
You can even use this with another program like JC or WL.
This tool is only to help you enter "Purple Screen Mode".
Actually, it just put the iPhone into the state of "engineer mode", so then we can reprogram it. When the iPhone is in the "engineer mode" state, the screen normally will be displaying purple or green color.
But in our community, we called it "Purple Screen mode". Because in the times of iPhone 4 we already know this "engineer mode". 
The tools below are the iBOX.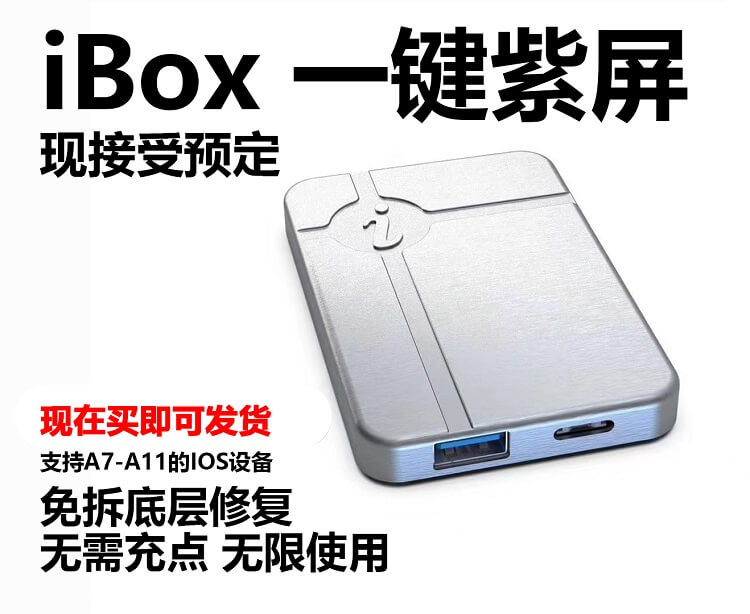 They told me it's impossible
I fixed at least a few hundred of Japan iPhone until now. They told you that because they don't know how to do it. 
Just recently because of this kind of tool released, I'm getting too many technicians from all over the world asking me how to fix the shutter sound.
Some of them even said it's a fake video that I uploaded in 2018. Some suspect I jailbreak it.
I don't have time to reply to every one of them.
Why not I just make a video again? So they can do this easily with this kind of tool.
A perfect solution to fix your Japan iPhone camera shutter sound without any side-affect. 
The video is in below.
This is NOT a jailbreak method!
This is NOT a "Jailbreak" method. This method is "Original Factory Programming" which has zero side-effect. You can update or restore the iPhone without losing it. Your iPhone became a normal iPhone.
Japan iPhone Camera Shutter Sound Fix v2 Tutorial
FAQs - Please read before ask
What about iPhone XS, XR, and iPhone 11 series?
Sorry, this kind of tool is not support any model that is newer than iPhone X.
Because the "Purple screen mode" exploit